Wireless Tour Guide Systems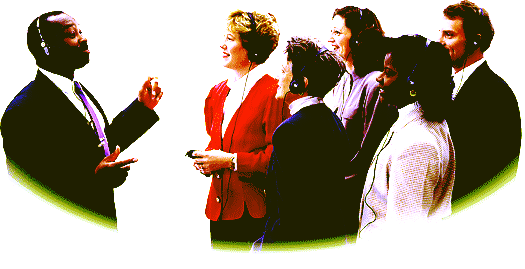 Can Everyone Hear Me?
How often do you start tours off wondering if everyone can hear? SHOWORKS offers wireless tour guide systems specifically designed to help group members overcome interference and distance hearing limitations, even in noisy surroundings. Tour groups soon grow bored and distracted when they can't hear the presentation. Public, private, media, investor or VIP tours are easy and safe with a wireless tour guide system.
Your tour guide system works like a portable radio station. Each guest wears a radio-like receiver, which can be clipped to a belt or placed in a pocket or purse. They listen through an earphone or lightweight headphone attached to the receiver by a removable miniature plug. Each listener is free to adjust their own volume and move up to 100 feet away from the tour guide.
Your tour guide wears a compact, battery powered, body-pack transmitter and headset microphone. With a direct wireless connection, your tour guide will be heard clearly even in the most difficult environments. The portable listening system is easy to set up and use and requires no installation. By using tour guide transmitters on multiple frequencies several groups can be accommodated at one time. Each tour guide can be received by an unlimited number of additional receivers, although SHOWORKS suggest that most groups not exceed 25 guests with one tour guide for safety reasons.
SHOWORKS has provided Tour Guide Systems for sale or rental to factories, museums, zoos and tourist attractions. We can provide systems to meet all you needs from 1 to 1000 guests. Call or email us for any additional information you may require.
To Request a quote on Tour Guide products by e-mail.
Rental Price List (PDF)
Complete Rental Price List (HTML)